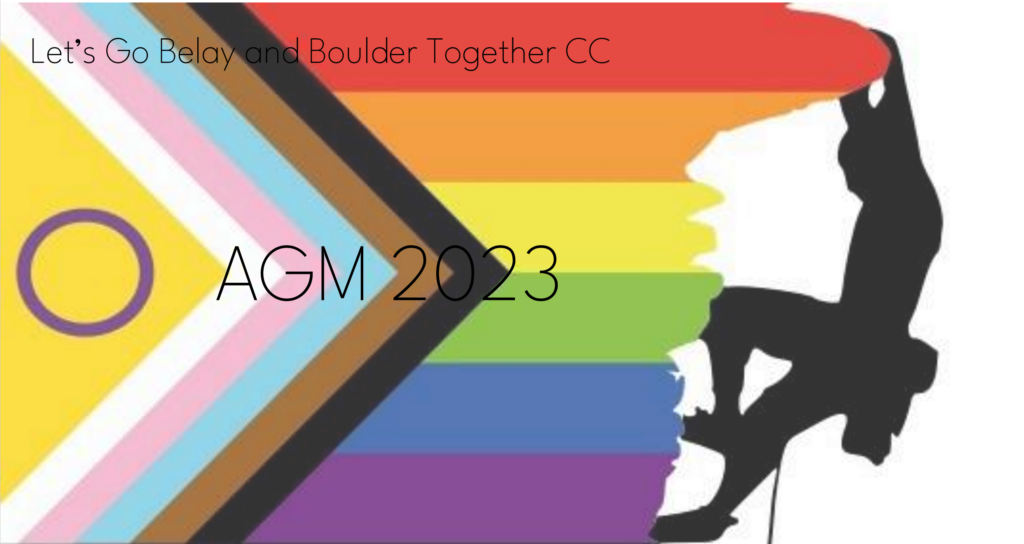 We held our second AGM on the 27th of November 2022 at the Quay Climbing Center.
A huge thank you to everyone who came along to recap and celebrate our achievements in 2023 and to look forward to 2024.
Please read on for a review of what we covered:
Voting
There were three areas for members to vote on:
Membership fees for 2023
Constitutional amendments
Committee officer elections
29 ballot papers were handed out and 28 votes were cast. All motions were approved by a majority (detailed results available on request)
Membership fees for 2024
The cost of membership fees will rise every year; the cost of BMC affiliation this year will increase by 7.5% which is below inflation for 2024.
In 2023 The committee proposed that the adult membership fee would be rounded up to £25 (£2.25 above the minimum) so the club had a small surplus to spend on equipment, transport, etc.
For 2024 the committee proposed that all fees would be rounded by approximately 11.5% on a voluntary basis to the nearest amount so the club had a small surplus to spend on equipment, transport, etc. It was also highlighted that members could pay more than the amounts discussed if they choose.
| | | | | |
| --- | --- | --- | --- | --- |
| | BMC Club membership 2023 | BMC Club Membership 2024 | Increase | Voluntary top up |
| Adult Club Membership | £22.25 | £23.90 | £1.65 | £27 |
| Student Club Membership | £18.35 | £19.75 | £1.40 | £22 |
| Discounted Club Membership | £16.45 | £17.70 | £1.25 | £19.50 |
| Upgrade from club membership | £16.70 | £17.95 | £1.25 | N/A |
Constitutional Amendments
There were two constitutional amendments this year:
2023-01 Change of terminology for committee roles to minimise constitutional amendment.
2023-02 Change to disciplinary process to allow for a clear disciplinary process for committee officers and committee members.
These amendments were passed by a majority vote.
Full details of these changes can be found here:
An updated version of the constitution is at the bottom of the club rules page.
Committee officer elections
This year the majority of committee officers and members stood for re-election this year. However, Josh Brockhouse Smith chose not to re-stand and Jack Woolley stood down from the EDI role. We also introduced two new roles this year:  Safeguarding and Plymouth Rep
Re-standing officers and members:
Nominee for Chair – Mike Phillips
Nominee for Treasurer – Simon Aplin
Nominee for New Members' Officer – Char Harrison
Nominee for Training/Equipment Officer – K Woolley
New and moving officers and members:
Nominee for Secretary – Julia Bradley
Nominee for Equality, Diversity, and Inclusion (EDI) Officer – Joe Spurrell
Nominee for Safeguarding Officer – Liz Morrison
Nominee for Plymouth Rep – Jack Woolley
All roles were voted in by a majority. Congratulations to everyone who stood for election.
Moving to Discord
It was discussed that we will move from Signal to Discord over the next month, why we are moving and that we will be entirely using Discord for club communications from the 27th of Dec 2023. Current members are being contacted with the link to move across and new members will be sent the link following their 3rd session with us.
EDI member's demographics survey update
We are looking to update our voluntary, anonymous member demographics survey and we welcome any suggestions or feedback to be sent to hello@climb.lgbt.
Our proposed changes and questions can be seen in this document here:
Slides from the meeting
AGM Minutes 2023
Additional Documents