As things start to wind down for Christmas, we recap on what we've been up to, and plans for the new year
What's been happening?
Beginner's Night on Mon 6th December was a great success! We welcomed three new members to the group, showing them around the Quay Climbing Centre, Exeter, introducing them to roped climbing and bouldering, and helping them have fun and learn the skills to climb safely.
One of the fun things about climbing is how quickly you can advance and improve. A warm welcome to Adam, Mike, and Olli – we all look forward to getting to know you better and can't wait to see how your climbing develops.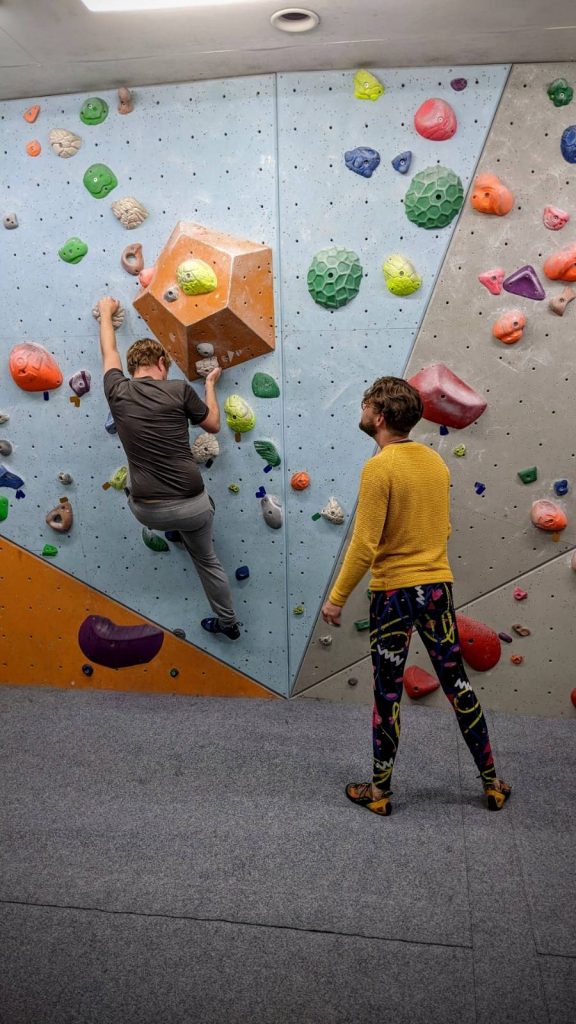 Saturday 11th December saw our last Pride Night of the year at the Climbing Hangar, Plymouth. Attended by Josh, Mike, Fi, Ana, Char, Zoe, Sam, Kieran, Jack, Matilda, and our newest member Thomas (hi Thomas! 👋)
Monday 13th December was a quieter general climbing session with people starting to prepare for the festive season. We had a lovely mixture of longer-term members and some of our new members from beginners night. This provided all people with a fantastic chance to share experiences, knowledge, and support in a more relaxed environment. It was also exciting to see the climbs on the Prow (the biggest and tallest climbing wall at the Quay) being reset and how the staff at the quay go about this.
Saturday 18th December saw the second of our training sessions ((Vaguely) weekly update: 29th Nov – LGBT (climb.lgbt) lead Falling and head game run for us by Keiran Wolley (Instagram @Kw.kieran.climbing). In this session we focussed on mental and training strategies to help with feeling calmer and more secure when lead climbing and belaying for lead climbing. During the session we worked through breathing and countering techniques to help shift focus away from moments of anxiety. We then went through some training techniques for training falling and catching falls to help feeling more secure when you feel mike you might fall and making falling more comfortable.
If you are wanting to improve your climbing and develop new skills we will be continuing to run these training sessions in the new year and repeating both the endurance and lead falling and head game sessions.
What's coming up?
Last Climb before Christmas, Mon 20th Dec
6pm-8pm, Quay Climbing Centre, Exeter
It's the most wonderful climb of the year! We'll be taking a break from our regular Monday night climbs over Christmas time, so this is our last session of 2021. Join us for a couple of hours of fun, relaxed climbing – we'll finish earlier than usual and head to the Topsham Brewery for a drink and pizza. 🍕
Sadly cancelled as an Omicron precaution. We'll reschedule in the new year!
Beginners' Night, Mon 3rd Jan
6.30pm – 8pm, Quay Climbing Centre, Exeter
Make climbing your New Year's resolution! It's a great way to get fitter and make new friends.
On our first Beginners' Night of the new year, our experts will be here to introduce you to our fantastic sport. Several of our members are qualified climbing instructors and will be on hand to help you learn the skills to climb for the first time safely (or refresh your skills if you've not climbed in a while).
We don't charge anything, but you'll need to pay for entry to the Quay Climbing Centre and to hire a harness and climbing shoes. Approx £18 total. If you're interested, email hello@climb.lgbt, or message on Facebook or Instagram so we know to expect you!
Pride Night, Sat 8th Jan
4pm – 5.30pm, The Climbing Hangar, Plymouth
The team at the Hangar run a Pride Night every fortnight – it's open to everyone and, for the same price as their regular climb (around £10), you get to enjoy the company of other LGBT climbers, a free hot drink, and lots of support and advice from their climbing coaches. The team do a flawless job of making us feel welcome. Book online with the Climbing Hangar.